After a strong end to 2017 it is time to usher in a new calendar year and a new set of goals.   Whether you are racing to update our investment portfolios one final time in 2017 or too busy smiling as you update your dividend income summary for the amazing December dividend and capital gains distribution you received from your mutual fund holdings, there are a lot of great things to be excited about.  One topic that always brings joy to the two of us…dividend increases.  So each month, we try to summarize the companies that are expected to increase their dividend in the coming month.  We are tracking this statistic like hawks, so we thought we would share our research with all of you.  This isn't an all-inclusive list, so please share any dividend increases you received last month or are expected to receive in the coming month with us in the comment section.  Now, it is time to dive into the next edition of our monthly series.  Here are the companies that we are expecting dividend increase from in January!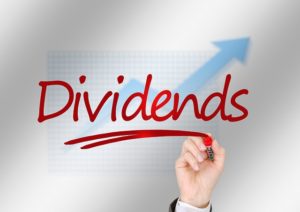 Actual Dividend Increases – DEcember 2017
Before looking ahead, I wanted to take a few moments to summarize the results from the December edition of this article.  I am VERY excited to perform this review because one of my largest holdings announced their dividend increase a few weeks ago.  Let's check out the results!
AT&T (T) –  This was the dividend increase that Lanny and I were eagerly waiting for each day.  We didn't expect the company to deviate away from their $.01/shares increase in their quarterly dividend.  But we were both excited because

we recently added to our positions

in the telecom giant.  Now that I own 174 shares, I couldn't wait to receive the additional income.  This dividend increase added $6.96 in forward dividend income to my portfolio.  Hopefully now you can see why I was so excited for this announcement!
Pfizer (PFE) –  We were both pumped about the T increase.  Since we also own shares in PFE, we were almost as excited about the looming PFE increase.  I remember the moment very well.  I received a message from Lanny that started with, in all caps "DUDE."  I knew that meant only one thing…that one of our positions increased their dividend.   In the follow-up message, he had informed me that PFE increased their quarterly dividend by 6.25%.   Another solid dividend increase notched!
Pfizer $PFE #Pfizer Increased their Dividend 6% ! https://t.co/dsV4De5EY9

— Dividend Diplomats (@DvdndDiplomats) December 18, 2017
The Boeing Co. (BA) –  Boeing continued their streak of strong dividend increases this month by announcing a 20.4% increase in their quarterly dividend.  The company had a very busy month by announcing the authorization of an $18b share repurchase program and the acquisition of a rival, Embraer.
Abbott Laboratories (ABT) –  Last, but definitely not least, ABT.  Management announced a $.015 increase in their quarterly dividend.  The 5.65% increase was much better than the 2% increase last year.  So congrats ABT shareholders!
Expected Dividend Increases in January 2018
Man, some intense and exiting dividend increases were announced and December.  Talk about a tough act to follow!  This month should be interesting since Tax Reform was passed in December.  I'm not hear to debate the Tax Reform or express my personal opinions about it.  That's a conversation for a different day. However,  I am very intrigued how the lower corporate tax rates are going to impact operating decisions and companies' plans to return capital to shareholders via dividends and share repurchases.   I know that I am going to closely monitor the dividend announcements of the following three Dividend Aristocrats to see if there are any major differences from recent history based on the tax reform or if the companies will continue chugging along in a manner similar to prior years.
Consolidated Edison (ED) –  Ah, Consolidated Edison.  The consistent utility company that we consider one our

top foundation stocks for a dividend investors portfolio

.  Why?  The company has increased their dividend for 42 consecutive years (hopefully 43), maintains a very solid dividend yield, and is a major player in a highly regulated industry.   Their dividend growth rate won't light the charts on fire as their average five-year DGR is less than 3%.  But since this is the only company on this list

that I own

, I will be paying particularly close attention to their announcement towards the end of the month.
Kimberly-Clark Corp (KMB) – Another Dividend Aristocrat here.  The consumer staple giant has made an appearance or two on my watch lists in 2017; however, the timing was never right for me to add a position to my portfolio.   KMB's five-year average dividend growth rate is slightly over 5.5%, which isn't bad considering similar growth rates for competitors such as PG and CL.   Can KMB deliver another high single digit percentage dividend increase for dividend investors?
Air Products and Chemicals, Inc. (APD) – Yet another Dividend Aristocrat that is expected to increase their dividend in January.  I must admit, I am not too familiar with APD or their business model.  But I am always open to learning more about a company that has a long-term history of increasing their dividend!  Currently, APD has a dividend yield of 2.33% and a five-ear average dividend growth rate of over 8%.
Do you own any of the three companies expected to increase their dividend in January?  Are you expecting any dividend increases from other companies?  Do you own AT&T?  If so, how much additional income did you receive from their dividend increase?  Also – if you received a dividend increase in December that was not included in this article, please share the company with us in the comments section!
Bert