Dividend Increases, dividend increases, dividend increases.  Man, this is the exciting announcement that all of us dividend growth investors eagerly await.  A dividend increase is one of the best benefits of a dividend growth investor and can come in all shapes and sizes.  Since we are constantly tracking the companies in our portfolio, each month, we prepare a listing of dividend increases that we are expected to receive from companies in our portfolio and several Dividend Aristocrats that we do not hold.   Now, it is time to dive in and see which companies we expect to increase their quarterly dividend in May 2017.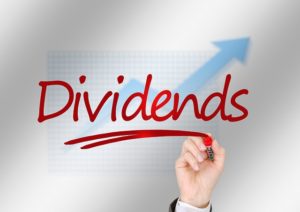 April 2017 dividend increases recap
Man, April was a busy month for us dividend growth investors.  For some reason, their were companies announcing dividend increases left and right.  With a lot to summarize, I won't waste too much time here and I'll dive right into a recap of some of the companies that announced a dividend increase in April.
Company #1 – Procter & Gamble (PG) –  PG announced an increase of $.0201/share in the company's quarterly dividend… representing a 3% increase.  We were a little surprised that the dividend increase here was below their 3 and 5 year dividend growth rates of 3.66% and 5.01% (prior to the announcement), especially given earlier earnings releases and some of the optimism that the two of us felt about the company.   But an increase is an increase, nonetheless, and it marks the 61st consecutive annual dividend increase for PG.  A mark matched by few.
Company #2 – Johnson and Johnson (JNJ) – What always came to mind with JNJ prior to April…7%.  Typically I had always associated JNJ with an annual 7% dividend increase.  This year, JNJ increased their quarterly dividend $.04/share quarterly to $.84/share, a 5% increase.   While the decrease isn't significantly lower than the 7% mark I typically expect from JNJ, it was a little surprising given the great run that the company has been on.   The company is closely trailing PG and has announced a dividend increase for 55 consecutive years, which is one of the main reasons that JNJ is one of our  Top 5 Foundation Stocks for a dividend portfolio.
Company #3 – PPG Industries (PPG) –  Interestingly, PPG did not announce a dividend increase this quarter.  Currently in a bidding war for an acquisition, so it does not surprise me that the company put their annual dividend increase on hold.   The company still has plenty of time left to continue their streak as a Dividend Aristocrat!
Company #4 – International Business Machine (IBM) – The two of us were watching the IBM dividend increase closely and could not wait for the company to increase their dividend, especially given the company's recent history of average dividend growth.  Similar to PG and JNJ, IBM announced a dividend increase less than their average by announcing a $.10/share increase in their quarterly payment.   This represents a 7.1% increase and is the company's 22nd consecutive annual dividend increase.  Man they are on the doorstep of becoming Dividend Aristocrats!
Company #5 – Costco (COST) – Wow – two amazing things happened when COST announced their dividend increase.  First, COST announced a $.05/share increase in their quarterly dividend, just a small 11% increase in their regular dividend.  Now, their quarterly dividend sits at $.50/share  Oh yeah, the second part of the announcement.  COST announced a $7.00/share SPECIAL CASH DIVIDEND for all shareholders.  Man oh man.  Congrats to all the COST shareholders out there.  Man I'm jealous!
Bonus Company #1 – W.W. Granger (GWW) – Ah Granger – Yes, this company was off of our initial list here, but quickly flew on our radar due to the work of Lanny.  And Lanny didn't mess around once GWW popped on his radar since he initiated a position in the company last week.  But Granger increased their quarterly dividend $.06/share, or 5%.  What is nuts is that once Granger announced their dividend, I swear I heard their commercials on the radio every half hour.  Funny how that works, right?
Bonus Company #2 – Exxon Mobil (XOM) – This one was truly a surprise here.  We all know the recent history of oil companies, and it was exciting to see XOM and CVX knock their recent earnings out of the park.  Maybe the large oil companies are finally breaking out of their slumber…maybe (but time will tell).   This month, XOM announced a $.02/share increase in their quarterly dividend, a small 2.66% increase.   But this was very exciting news for all shareholders out there.
May 2017 expected dividend increases
Phew, I told you there were a lot of companies that increased their dividend in April.  Kind of crazy, but am loving the impact that my forward dividend income felt thanks to the increases announced by PG, JNJ, and IBM.   Now onto the fun part, time to look ahead and see which companies will help us out here in May 2017!
Company #1 – Clorox Co. (CLX) – With a slow and stead approach to increasing their dividend, this Dividend Aristocrat has a 3 and 5 year average dividend growth rate of 4.06% and 5.96%, respectively.  Always a fan of consumer staple dividend growth stocks, CLX is a company that I would love to one day own if the company would fall and stop trading at such a premium.
Company #2 – Lowes Corp (LOW) – A long time ago, we labelled LOW one of our Top 5 low dividend yield, high dividend growth rate stocks because you guessed it, LOW has a strong historical dividend growth rate.  LOW's five-year dividend growth rate is a "small" 20.26%.   Looking forward to seeing what LOW has up its sleeve here in 2017; but unfortunately, we will have to wait till the very end of the month to find out.
Company #3 – PepsiCo (PEP) – Ah, one of my 5 "Always Buy" stocks has found a way onto this list.  Man I cannot wait to buy shares of this beverage and snack company one day in the future.  PEP has a strong 3 and 5 dividend growth rate of 9.93% and 7.95%; however,hopefully PEP can deliver better news than PG and JNJ did in April.
Company #4 – Apple (AAPL) – This was an increase that I was expecting towards the end of April.  April came and April went, and AAPL did not announce a dividend increase.   However, they came firing right out of the gate in the month of May.  In May, Apple announced an insane 10.5% annual dividend increase and provided an extra jolt to their share buyback program.  Bottom line, the company just returned a lot of capital to shareholders.
summary
Being a dividend growth investor is a heck of a lot of fun, isn't it?  I cannot wait to receive a dividend increase and run home and update my portfolio tracking spreadsheet.  Sure, the majority of the increases do not result in a substantial increase in my forward dividend income individually.  But when you aggregate the impact of each individual increase, it is hard to ignore the impact that dividend increases have on your portfolio.  That's why we spend so much time discussing increases and waiting on the edge of our seat for the next announcement.  Because remember, every single dollar counts here as we slowly work our way towards financial freedom!
How many companies from this list do you own? Did you receive any dividend increases from companies in April that were not included on this list?  What are your thoughts on the eagerly anticipated Apple dividend increase announcement?  Will in come in May 2017? What dollar impact did the increases have on your forward dividend income?
-Bert
DISCLOSURE: I DO NOT RECOMMEND ANY DECISION TO THE READER or ANY USER, PLEASE CONSULT YOUR OWN RESEARCH. THIS IS ACTUAL DATA, ANALYSIS, HOWEVER I BASE NO INVESTOR RECOMMENDATION.  THANK YOU FOR YOUR UNDERSTANDING