What dividend investor doesn't love receiving a dividend increase from one of their holdings?  No hands are raised….exactly what I expected.   Lanny and I are constantly monitoring our portfolios to make sure we measure the impact of a dividend increase the day the company makes their announcement.  We love instant results!  So each month, we take summarize a listing of Dividend Aristocrats (and a handful of non-Aristocrats) that are set to increase their dividend in the coming month to share our excitement with the community.   Now it is time to dive in and see which companies are expected to increase their dividend in August!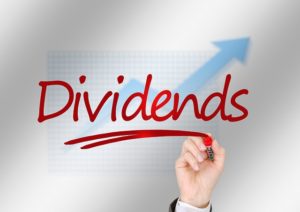 Dividend Increases in July 2017
Before looking forward to the increases that are expected in August, I always like to review the increases that we discussed in the previous month's article.  I highlighted three companies in my July summary and I actually do not own shares in any of the companies.  So the results did not impact my forward dividend income.  Let's see the results!
Stanley Black & Decker (SWK) 

–  SWK announced a $.05/share increase in their quarterly dividend, from $.58/share to $.63/share.   This was an 8.6% increase, which was greater than their previous five-year average growth rate of 7.3% (as cited in my last article).   Gotta love when a company exceeds their recent growth rate! 

Walgreens Boots Alliance Inc (WBA) –  Another mid single digit increase was announced.  WBA increased their quarterly dividend by $.025/share.  A solid increase.  This has me excited for CVS's dividend increase announcement in December.
J.M. Smuckers (SJM) –  This one was interesting.  Last month, we cited that SJM has a five-year average dividend growth rate of 9.3%.   Well, their dividend increase in July was only 4%…well below the average!  I'm still a homer and love this consumer company from the Buckeye State, but I'm a little shocked that the dividend increase was a low as it was.
Knider Morgan (KMI) – Okay, this one is a bonus and there is not a guaranteed dividend increase.  But I'm pretty sure that all dividend growth investors were excited when

Kinder Morgan announced

that the company anticipates a 60% dividend increase in 2018 and a 25% annual dividend growth rate through 2020.   While we can understand that some people could be cautiously optimistic given the dividend cut from a few years ago (myself included).  Management's discussion in the earnings release about the importance of maintaining a strong balance sheet and keeping leverage to their tolerable thresholds was very re-assuring.  But I'll still be keeping a close eye on the company's debt levels over the next few years.
Expected Dividend Increases in August 2017
A nice surprise there at the end, right?  July wasn't supposed to be an exciting month in terms of dividend increases since I originally only anticipated three increases.  However, KMI really stepped up to the plate and delivered some exciting news.   Now that July's increases are behind us, it is time to look ahead to August and see which companies are expected to announce an increases here in the heart of summer.   Let's go!
Dover Corp. (DOV) –  Watch out, because this dividend increase is going to come quickly  since DOV typically announces their dividend in the early parts of August.   DOV is a classic Dividend Aristocrat with a very long streak of increasing their dividend.  Over the last three and five years, the company has maintained an average dividend growth rate of 5.48$ and 6.94%, respectively.  I'm excited to see the upcoming announcement and see what the company has in store for their shareholders.
Illinois Tool Works (ITW) –  Another Dividend Aristocrat and another company that will announce their increase early on in August.  ITW is a  low dividend yielding stock with a double-digit average dividend growth rate over the last five years.
Nordson Corp (NDSN) –  Much like ITW, NDSN is a Dividend Aristocrat with a low dividend yield and a high dividend growth rate.  NDSN has a dividend yield that hovers around 1% and has posted an impressive 16.7% fiver year average dividend growth rate.  Strong results indeed!
Kellogg Company (K) – It wouldn't be a listing of mine if I didn't include one consumer staple stock in it, right?   Kellogg is expected to announce their dividend increase in August.  The recent results have not be stellar, however.  K's five-year average dividend growth rate is slightly below 4%.   Hopefully they can reverse the trend in the coming year.
Summary
It is always fun reviewing great companies that are expected to increase their dividend increases in the coming month.   We are so focused on investing in dividend income stocks here, that we celebrate every increase because it helps bring us that much closer to retiring early.  While the impact on our forward dividend income may be a few dollars or even a handful of change, every single dollar helps us get the dividend snowball rolling.  Then, the good old fashioned power of dividend growth investing steps in.   I know I only listed four companies that are expected to increase their dividend in August; however, there are so many others out there that are going to provide a boost!  Congrats in advance everyone.
Do you own any of the companies in this listing?  What companies increased your dividend income in July that I did not include here?  Are you considering investing in any of the companies listed in this article?  If not, what companies are on your August watch list?
Bert