Dividend increases are the name of the game and the two of us are checking every evening to see if one of our companies increased their dividend! And best of all, we love sharing this excitement with each of you via our blog, Twitter Feed, or by other means.  For those of you that are new to the website,  each month, I try my best to compile a list of companies that are expected to announce a dividend increase in the coming month.  While I can't include every company in the article, I do my best to capture as many Dividend Aristocrats and other companies as possible.   Let's see the companies that are expected to announce dividend increases in September!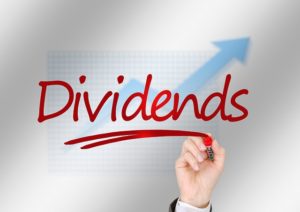 Actual Dividend Increases in August 2018
We have been saying all year that the market continues to surprise with dividend increases.  We predicted that there would be a large list of companies that would increase their dividend during August.  So let's see if their management teams delivered and followed through!
Company #1: Illinois Tool Works (ITW) – This Dividend Aristocrat has been all over our blog the last few weeks as the

two of us have been scooping up shares left and right

.  We have a promotional free trade period at our brokerage and the company's stock price continues to fall.  It makes sense to continue lowering our cost basis.  What prompted our excitement in this stock was the company's 28% increase that was announced at the beginning of the month!  That had exceeded their previous 5-year average dividend growth rate of 15%!
Company #2: Scotts-Miracle Gro (SMG)  – I wasn't expecting a large increase from SMG after reading about their recent acquisitions and the process of consolidating the two companies.  The larger dividend increases and benefits should come in future years.   But I was expecting a solid increase in the current year regardless.   SMG increased their quarterly dividend $.02/share, or 3.7%.  I don't know if I'd consider that solid, but it could have been worse.  Hopefully that percentage will start to ratchet up again in 2019.
Company #3:  American Water Works (AWR) – AWR continued their streak!  Much like SMG, AWR increased their quarterly dividend by $.02/share.  However, the increase represented a 7.8% increase!  Right in line with the company's recent average.
Company #4:  Dover Corporation (DOV) – DOV's dividend increase of only $.01/share was only a 2% increase, right in line with inflation.  I don't own shares in DOV and this increase will not move the needle in terms of placing this company on my watch list.
Company #5: Tyson Foods (TSN) – TSN DID NOT actually increase their dividend this month and to be honest, I was a little bummed about it.  I had

initiated a position in the company

after their price tumbled and was expecting to also receive a dividend increase shortly after.  Unfortunately, that was not the case and management did not provide an explanation immediately.  However, it became clear why the company did not increase their dividend a few weeks later when Tyson announced their acquisition of Keystone Foods.  Keystone will help expand their international presence  and Keystone was also one of McDonald's top meat suppliers.  I'm excited about the long-term prospects of the acquisition, which helped me get over the fact that Tyson did not increase their dividend as expected!
Company #6: Altria Group (MO) – I KNEW IT!  Last month, I had speculated that Altria was going to increase their dividend for a second time in 2018.  I couldn't guarantee it, but I had a hunch.  And boy oh boy did Altria deliver.  The company announced a 14% increase in their quarterly dividend.  Overall, Altria has increased their dividend 21% compared to last year!  Congrats MO shareholders.
Expected Dividend Increases in September 2018

Usually I can say how happy I am that all the companies announced dividend increases as expected.  However, that is not the case this month due to Tyson.  But hopefully we will go back to batting 1.000 for the month of September.  Here are the companies that are expected to announce dividend increases in September!
Company #1: Lockheed Martin (LMT) – We wanted to start this article off with a bang!  LMT fits that bill, as the company's current dividend yield is about 2.5% and their 5-year average dividend growth rate is 11.9%!  The company working their way towards becoming a Dividend Aristocrat and I'm hoping this increase will be strong!
Company #2: McDonalds Corporation (MCD) –  It is always a treat when one of our

Top 5 Foundation dividend stocks

is set to increase their dividend.  Over the years, Lanny and I always have some fun story about monitoring the MCD dividend increase.  It always results in an excited phone call after the fact.   MCD's stock may be down this year, but the company has been on a tear over the last few years.   Last year's dividend increase exceeded their five-year average dividend growth rate, so lets see if this will happen once again in 2018.
Company #3: Microsoft Corporation (MSFT) – Ah, Microsoft.  I do not hold a lot of technology stocks in my portfolio (only IBM).   Although I'm sure MSFT is within all of the mutual funds in my 401(k).  This tech giant is set to announce a dividend increase this month and has a five-year average DGR of 13%.  So the company has a history of strong dividend increases and I don't see why that would not continue in 2018.
Company #4: Verizon Corporation (VZ) – This telecom giant should increase their dividend in the first part of the month.  The increases have not been that large, but neither are their arch-rival AT&T.  VZ is a classic high-yielding, low dividend growth rate stock.
Company #5: Philip Morris International (PM) –  Well, let's see if magic can strike twice.  I discussed how MO announced their second dividend increase last month.  I wonder if PM will follow suit here in September.  Typically, PM announces their dividend increase in September.  So their June dividend increase was quite the surprise to dividend investors.  I'm not expecting an increase, but I would be doing backflips if they did announce another one!
There it is.  Another month down and another batch of great dividend growth stocks.  I'm sure I've missed a few as well. So please, if you know of a company that should be included here, let me know in the comment section!  Congrats to all shareholders that received a solid increase in August.  I look forward to receiving a few increases myself in the coming month! Remember folks, EVERY DOLLAR COUNTS!
-Bert