Wow.  I had to take a second to stop when I typed the title of this article out.  I cannot believe it is already 2019.  Time continues to fly by and before I know it, I'll be turning 30 in July.  2018 was such an incredible year for dividend investing and it was unique to watch from a investor's perspective.  We started with the incredible surprise dividend increases at the beginning of the year and ended with a turbulent market (to say the least).  Lanny and I were talking about it, but I can't remember the last time there were so many wild swings on daily basis.  But as always, we are prepared and ready to take a methodological approach to investing.   I'm starting to ramble, so let's get back to the task at hand. Each month, we do our best to highlight as many companies that are expected to announce a dividend increase that month.  Since we love dividend increases and follow them so closely, we love trying to share the news with you!   Here is our listing of expected dividend increases in January 2019!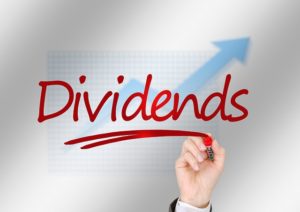 Actual Dividend Increases in December 2018
Before looking ahead, I always like to review the actual results from the prior month.  After all, what fun would it be if we didn't follow-up on the results?  In December, we predicted that five companies were going to increase their dividend during the month.   And for once, all of the companies have made their announcement by the time I started writing this article! Victory! On top of it, I have three bonus dividend increases that were not included in last month's article that I am adding to the list. However, as a preview of the results, here is a tweet that I authored one day because I was so pumped up about the crazy dividend increases that were being announced this month!
A HUGE week for #dividend increases. To summarize: $WM = 10%, $T = 2%, $D = 10%, $PFE = 6%, $O = their quarterly increase, and #Vanguard just announced their dividends/distributions. Here are some others that are expected this month. https://t.co/XZBWAJ0I55

— Dividend Diplomats (@DvdndDiplomats) December 15, 2018
Company #1: AT&T (T) – You know what's funny?  Every year, Lanny and I try to convince ourselves that AT&T is going to increase their quarterly dividend by an amount greater than $.01/share.  And each year, the company proves us wrong.  2018 was no different and AT&T stuck to the plan.  Their quarterly dividend increased to $.51/share from $.50/share.  Maybe next year will be the year the company changes things up!  Still, couldn't be happier this company is in

our dividend stock portfolios

.
Company #2: Pfizer (PFE) – In my article last month, I mentioned that PFE has a 7.2% 5-year average dividend growth rate and the company's previous dividend increase was 6.25%.  PFE must understand something about consistency here, because the company announced a 5.9% increase in their quarterly dividend.  Sure, this is lower than their average; however, it is pretty darn close and in line with the company's recent history.  PFE lost their Aristocrat status during the financial crisis; however, the company is slowly clawing its way back.
Company #3: Boeing (BA) – Boeing has absolutely CRUSHED it with their dividend increases in recent years.  Guess what, 2018 was no different.  Boeing announced yet another 20% increase in the company's quarterly dividend.   What's funny is that this is actually below the company's 5-year average dividend growth rate.  Go figure, right?
Company #4: Abbott Laboratories (ABT) –  We mentioned that ABBV announced a huge dividend increase earlier in the year and were curious if ABT would follow the other half of the formally consolidated company's lead.  While ABT announced a great dividend increase, ABT's increase certainly wasn't at the same level as ABBV after considering their multiple dividend increases.  However, can you really complain when a company increases their quarterly dividend by 14.3%??  Congrats ABT shareholders!

Company #5: ABM Industries (ABM) – The company buried their 2.9% dividend increase in their earnings release.  The company's dividend yield is currently around 2.25% at the time of the article, so I would have expected that the company's dividend increase would have been a little larger for this low yielding dividend growth stock.
Bonus Company #1:  Norwood Financial Corp (NWFL) –  Lanny and I

own several community banks

based on our background.  One of those banks announced a surprise dividend increase this month and the two of us were pretty excited about this one.  NWFL increased their quarterly dividend 9.1%, to $.24/share from $.22/share.  It is always fun receiving a dividend increase.  But it is THAT much more fun receiving a surprise dividend increase!
Bonus Company #2: Realty Income (O)  –  I'm kind of kicking myself for not including this dividend increase in my last article. Maybe I've just become so accustomed to receiving the quarterly dividend increase from Realty Income that I never expect it to come.  Or, it could be the fact that the dividend increase is usually a fraction of a penny and the increase adds a dollar or two to my forward dividend income.  Regardless, I still need to remember to include them going forward.  This month, Realty income increased their monthly dividend to $.221/share from $.2205/share.   Interestingly, that was the 99th dividend increase since the company's inception and it looks like they will enter the triple digit club in the first quarter of 2019.   Get pumped!
Bonus Company #3: Waste Management (WM) –  To be honest, Waste Management is not a company that I closely follow.  The only affiliation I have with the company is that I see the company's trucks leaving my company's parking lot regularly.   But I was in the zone one day, researching companies, and I saw that Waste Management increased their dividend by 10%.  That had to be welcomed news for the company's shareholders, as the company's dividend increases have been less than stellar.
Expected Dividend Increases in January 2019

If you all recall, January 2018 was really when the madness started to happen.  Post-tax reform, companies were announcing surprise dividend increases left and right.  While I'm certainly not expecting companies to announce these kind of dividend increases annually, I will be curious to see what companies do in Year 2 of the lower corporate tax environment, countered by an increasing interest rate environment.   Will we revert back to normal?  Or will we still see generous increases to shareholders?   Who knows?  But let's start with trying to predict some of the companies that are expected to announce dividend increases in January!
Company #1: Consolidated Edison (ED) –  This is one of our favorite companies.  Hence, Consolidated Edison is one of our

Top 5 Foundation Dividend Growth Stocks

.  The company has been around forever and increased their dividend for a long-time.  On top of it, they are a major player in a highly regulated utility sector.  What's not to like?  Their 5-year dividend growth rate isn't terrible, 3.06%, and we have no reason to believe that ED won't continue their impressive annual dividend increase streak!
Company #2: Kimberly-Clark Corporation (KMB) –  I do love consumer staple stocks.  I own a lot of them and on top of it, I added

Smuckers to my last watch list

.  KMB was a company I should have paid closer to in October; however, their price has jumped up since then.   Like ED, KMB doesn't have the best dividend growth rate (5-year average is just over 4%).  Hopefully this is the year KMB reverses the trend and knocks their shareholders' socks off.
Company #3: Air Products and Chemicals, Inc (APD) –  APD is a Dividend Aristocrat that I have not followed closely over the years. However, APD's yield is under 3% and their 5-year average dividend growth rate is close to 9%.   If the company can deliver a double-digit percent increase, I'll start paying closer attention to them.   They operate in a sector that is under-represented in my dividend portfolio.
Company #4:  AO Smith Corp (AOS) – AOS is another company that is off my radar.  Their performance in 2018 has not been stellar, as the company is down over 30% year-to-date.  Now, AOS is yielding over 2%; much higher than their historical dividend yield.   The company announced an impressive 22% dividend increase last year.  I'm curious if that will continue after the company's stock price fell so much this year.
Company #5: 3M Corp (MMM) – This is a potential dividend increase.  Typically, 3M increases their dividend in February.  However, last year, 3M jumped the gun and announced their dividend increase at the end of January.   Last year, 3M's dividend increase was strong and their competitor

ITW announced a huge increase

in the third quarter.  Will 3M deliver once again for shareholders?  I sure hope so, as 3M is one of my favorite holdings!
Companies #6 –  The Banking Industry –  Last, but not least, the banking industry.  Last January, there were a lot of banks, both large and small, that increased their dividend in January.  We've seen banks continue to deliver strong increases throughout 2018.  With rising interest rates and a rising cost of deposits, how will banks respond in 2019?  Will they continue to grow their dividend or reign in their dividend increases based on this new operating environment?
summary
Hopefully 2019 will start off in the same manner as 2018.  If so, we are going to be in for quite the roller coaster of the ride.  Dividend increases are such an important aspect of our investing strategy and we love following them closely.  Sometimes it makes us anxious, other times it makes us excited, and other times, we leave angry that the increase wasn't quite as large as we were expecting.  That's part of the game, and that is why we love playing the game.  Let's have a safe and happy new year and start 2019 off on the right foot!
-Bert